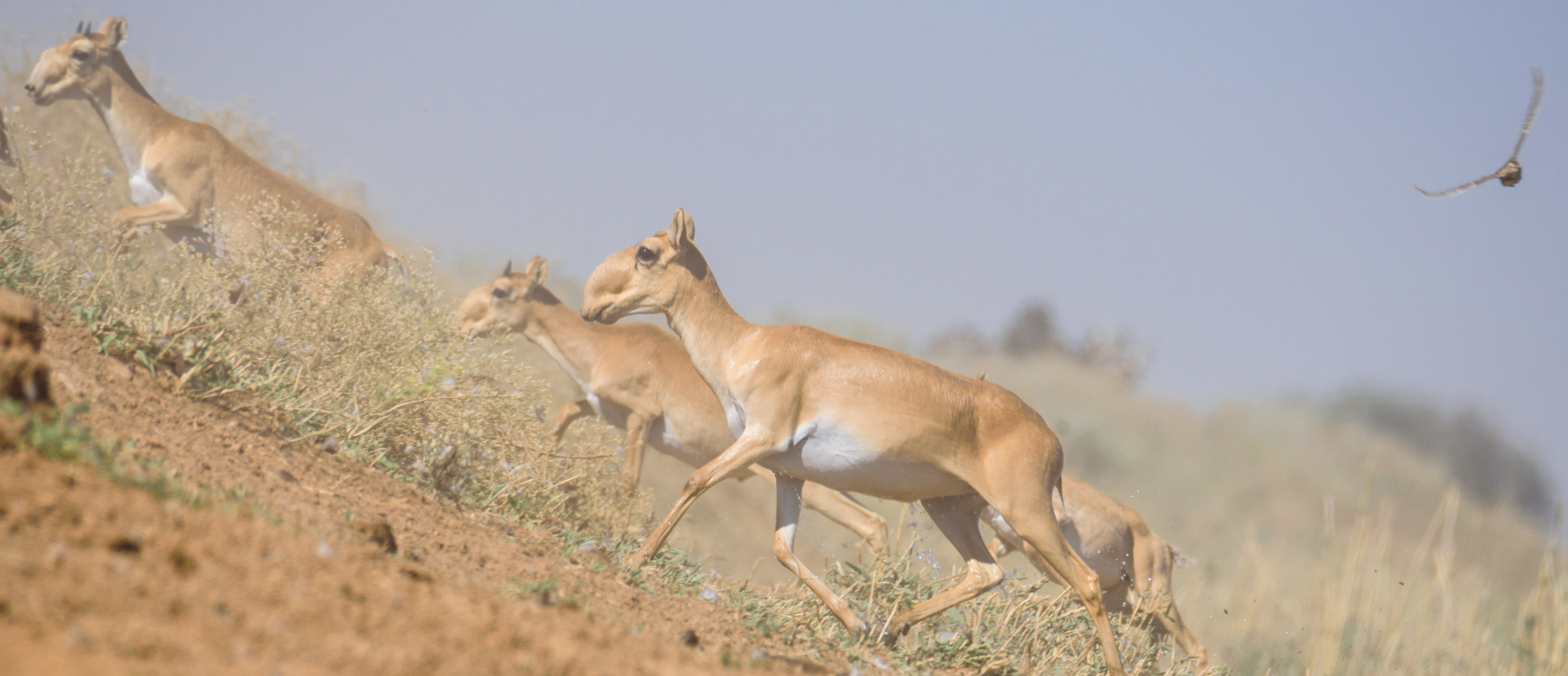 Goal
Support a survey of the saiga population in the North-Western Caspian region. The project included a winter saiga census in the North-Western Caspian region using low-noise drones in December 2019. Fresh data on the population's condition, age-sex structure, distribution during the rut and dynamics will help design comprehensive conservation measures.
Problem
In the last 60 years, the saiga population in Russia shrank by almost 100 times Furthermore, the proportion of males in it fell drastically due to selective hunting for horns which are used in traditional Chinese medicine. As estimated by WWF Russia in June 2019, there are slightly more than 5,000 saigas.
The saiga antelope is a unique representative of the mammoth fauna, most species of which became extinct due to climate changes or hunting. The saiga has survived to our days, but today its only remaining population in Russia verges on extinction again. Having existed for centuries, saigas have become an important element of the arid biome. Their vanishing would cause substantial changes in the natural vegetation of steppes and semideserts.
MKB's contribution
MKB provided financial support for the overall coordination of work, manual interpretation of the obtained photographs (about 10 thousand pieces), data analysis and development of a methodology for winter saiga census.
The census showed that the North-West Pre-Caspian steppes are home to at least 6,350 saiga antelopes. Accurate data on the populations of rare species are requisite for effective conservational efforts and for evaluation of their results. The new method of counting provided most reliable information without any damage to the environment.
"The effectiveness of saiga conservation measures cannot be assessed without obtaining up-to-date information on the state of the population, - said Valery Shmunk, director of Russian Caucasus department of WWF Russia. – Therefore, the development of methods for reliable counting of saiga which are not stressful for the animals is an important conservational task".
Everyone can support the project!
Anyone can help fulfil the saiga conservation project and support WWF-Russia's environmental work by symbolically adopting a specimen of this rare species. The adoption programme is available to everyone, and together we have a chance to preserve these wonderful animals for future generations! Moreover, a good deed and contribution to the preservation of our planet's biodiversity can be presented to relatives, friends or colleagues - the adoption of a saiga can become the most unusual and most valuable gift!
"Adopt a Saiga" share your biodiversity conservation story or your emotions from participating in the project. MKB will present the best works as a separate publication and will post them in the section "Key ESG events"
---